Mohammed bin Salman, the 32-year-old crown prince of Saudi Arabia, has been touted as a reformer and embraced by the US.
But Prince Mohammed's policies at home and abroad have reportedly angered people inside the kingdom.
Amid what is reported to be growing ire with the crown prince, he is said to be spending more time on his superyacht for security.
Mohammed bin Salman's elevation to crown prince of Saudi Arabia in 2017 set the stage for him to pursue aggressive policies that included confrontations with many rivals around the region.
But changes to the royal line of succession and decisions by the 32-year-old crown prince at home and abroad have undermined the kingdom's longstanding stability and left him in doubt about his own safety, according to Bruce Riedel, the director of the Brookings Institution's Intelligence Project.
Prince Mohammed is reportedly aware of the growing enmity.
"Fearing for his security, the crown prince is said to spend many nights on his half-billion-dollar yacht moored in Jeddah," Riedel wrote for Al-Monitor, where he is a columnist.
The superyacht Serene moored in Auckland, New Zealand, in 2015. Phil Walter/Getty Images
Prince Mohammed reportedly dropped a half-billion dollars on the 440-foot-long yacht, named Serene, in late 2016 after spotting it while vacationing in the south of France.
He bought it from a Russian billionaire who moved out the day the deal was signed, and the vessel includes two helipads, an indoor climbing wall, a fully equipped spa, and three swimming pools.
But Prince Mohammed bought it as he helped push severe austerityat home, including major spending cuts and a freeze on government contracts. Such spending is often used to quell dissent.
"It's a floating palace longer than a football field and with many perks," Riedel wrote of the yacht. "It is also a potential escape hatch."
'A foolish and dangerous approach'
Prince Mohammed with President Donald Trump in the Oval Office.Pool/Getty Images
The main foreign-policy issues that have raised ire toward Prince Mohammed are the now four-year-old war in Yemen — his signature initiative — and the blockade of Qatar.
Criticism of Prince Mohammed's bloody and disastrous war in Yemen, which has subjected many Yemenis to famine and disease, has been brewing inside Saudi Arabia for months, according to Riedel.
A video of Prince Ahmed bin Abdulaziz — the half-brother of King Salman, the father of Prince Mohammed — publicly blaming Prince Mohammed for the war went viral in the kingdom this month.
Saudi Arabia's turn on Qatar reportedly came as a surprise to many US officials, frustrating them even as US President Donald Trump castigated the Qataris. The blockade has been unwelcome within Saudi Arabia — one cleric has been arrested and faces execution for criticizing it — and has split the Gulf Cooperation Council, Riedel wrote.
Prince Mohammed's roundup of powerful business executives and members of the royal family last fall may have been his biggest domestic miscalculation. It spooked investors and led to capital flight, diminishing confidence in Prince Mohammed's ability to manage economic issues.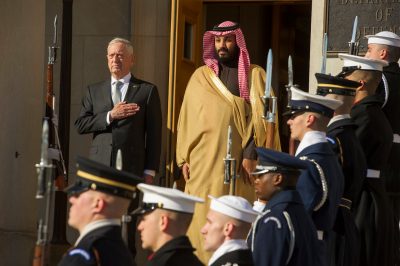 Defense Secretary James Mattis welcoming Prince Mohammed to the Pentagon on March 22. AP Photo/Cliff Owen
Among the dozens of businessmen and princes who were arrested was Prince Mutaib bin Abdullah, the leader of the Saudi national guard, the kingdom's premier fighting force, which, along with the campaign in Yemen, may further alienate Prince Mohammed from the military.
The removal of Prince Mutaib was seen as likely to stir discontent, and Salman's moves, particularly the roundup, have fed the impression inside the kingdom of Salman "as someone who has disturbed the status quo for the sake of massive personal enrichment and political aggrandizement," according to Rosie Bsheer, a history professor at Yale.
Salman remains the most likely heir as long as his father is alive, but his actions have helped make the kingdom the least stable it has been in 50 years, according to Riedel. Should King Salman, now 81, die in the near future, succession could be disputed, and the process to appoint the next king could turn violent.
"The Trump administration has given Saudi Arabia a blank check and supports its war in Yemen," Riedel wrote. "The crown prince has been touted by the White House. It's a foolish and dangerous approach."